~Frequently Asked Questions
Q: Why Should I hire a Coordinator?
A) A wedding coordinator is there to work with you and will do as much or as little as you like. Planning a wedding can be very stressful. It takes a lot of time and energy in order to make your wedding day dreams come true. Everything involved in planning a wedding must be brought together to ensure that the bride and groom are able to enjoy themselves without worry. A wedding consultant will be there to help reduce the stress by managing and organizing all of the details. Our expertise can help to create a pleasant planning experience. A wedding consultant can save you valuable time by providing you with a portfolio of preferred vendors or doing the required legwork including vendor research and selections, venue site inspections, budget management, contract reviews, timeline planning from start to finish, and so much more.


Q: Can I afford a wedding coordinator?
A: You can't afford NOT to have a coordinator! Coordination is part of the budget, not an extra expense. Based upon our recommendations and expertise, clients experience an overall savings that pays for our services while having the wedding of their dreams within their budget. One of the largest misconceptions is that a wedding consultant does not fit into the budget. Hiring a wedding consultant can save you money, save you time, and allow for you to relax and enjoy your day knowing that all your expectations are being fulfilled by a professional who has your best interest at heart.


Q: Will a bridal consultant want to take control and run the whole show?
A: Some might. But, realistically, your wedding is all about YOU! We are professionals and work with our brides in handling as much or as little of the wedding planning as you want. It is your wedding and we would never want to deprive you of the fun of planning and making key decisions. You make all of the ultimate decisions; we make sure that everything is executed according to plan. It's still your wedding, but it's our job!

Q: My mom or a friend is going to help plan the wedding. Why do I need a professional?
A: If you think enough of someone to invite them to your wedding, why would you want to put them to work instead of being one of the important invited guests enjoying the day? Even though your friends and family want to help you on your special day, in reality, they don't really feel comfortable taking charge and making decisions that are going to effect the most important day of your life. Because All Occasions Event Planning has worked very closely with you throughout the planning, you will have peace of mind knowing that everything will be handled as efficiently as possible by your coordinator. Whether it is a problem with the flowers, a cake that's melting, or a stain on your dress, a coordinator can handle it behind the scenes so that you can enjoy your day stress free, and so can your family!


Q:What if I have already done most of the planning? Can you still help me?
A: Yes. We can assist you in many ways at your rehearsal and day of your wedding. Our Rehearsal & Day of wedding coordination package would be perfect for you. We can help coordinate your ceremony and reception to ensure that everything runs smoothly.

Q: What makes Divine Weddings & Events Planner, Dee Hawkins, so different from the many other coordinators I've found?
A: The best way to explain it would be, that I did not choose this career, but it chose me. A personal wedding coordinator is the ultimate service you could provide to someone because that day is so special and should be treated so. I am very passionate about the service and I want nothing more than for you to have your perfect wedding.
Q: How much can I expect to pay for a coordinator?
A: Because each package is customized to fit the needs of the bride, fees are based upon your needs. Special packages can be created to fit the visions of the bride, or single services can be purchased a la carte. Please contact us for more information.

Q: How do I get started?
A: You simply need to fill out the contact us form or send an e-mail, to obtain more information. In order to reserve your date with Divine Weddings & Events, we need to receive a signed contract and the first initial deposit for the coordination services.
Contact Divine Weddings & Events Planner...
for all your party and event planning needs!!
Office: 1-615-582-8713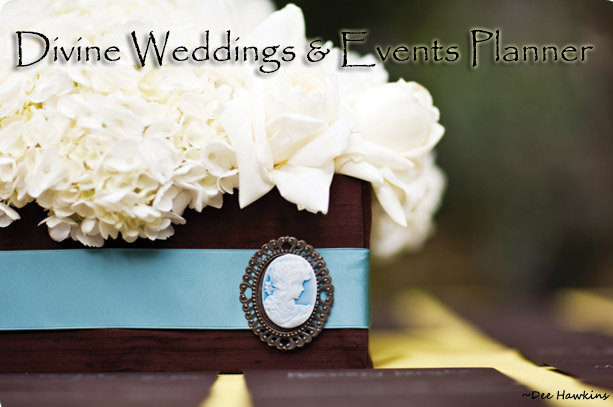 All photos on this website are from actual Divine weddings © 2007 Divine Wedding & Events Planner, All Rights Reserved