Contact Divine Weddings & Events Planner...
for all your party and event planning needs!!
Office: 1-615-582-8713
Divine Planning Packages
Divine Weddings & Events offers three planning packages based on how involved you would like us to be in your wedding or special event. All packages include a complimentary initial consultation. Hiring an experienced wedding planner allows you to benefit from our knowledge and relationships. Details of all packages are explained during our meeting, to ensure we provide the best package that fits perfectly for your special day. All Divine packages include, lead planner, Dee Hawkins as your wedding/special events planner, plus one/two of our event assistants on the day of your event if needed.
Full or Partial Wedding Planning Package:
This package is for the bride who wishes to design and plan her wedding, but would like a wedding coordinator to handle the details. Are you a Do It Yourself bride, but would love to have an experts with experience give you the best information and great tips. To ensure you will have the most amazing wedding ever. Let me make the Impossible Possible. Let me help you with everything from A-Z, and much more.
Packages from $3,500 to $10,600
Month of Wedding Planning Package:
Month of Wedding Planner, this is the package for the bride, that doesn't know where to start or has made her own plans, believes she has everything handled, but would like an expert to go over everything with her.
This Package starts at $2,000
"Day" of Planning Package:
On a Budget Bride, Day Service. Are you a on a tight budget? Still wish to have an experienced, professional coordinator to make sure that everything goes smoothly on your wedding day. Then this, is the perfect package, for you and your groom.
Please call for prices
We know every bride is different, if you don`t see a package that works for you its no problem. Divine Weddings & Events will customized a Wedding or Event package to suit any budget and style. The items included in these packages are not limited to what is listed; a complete breakdown will be created upon initial consultation.
Party and Event Planning Packages
We are aware that your event is a reflection of your personality, taste, and lifestyle. The direction comes from you, and we take care
of the details so you don`t have to.
An event that will leave you and your guest with wonderful memories.
Whether you would like to have a house party,
backyard barbecue, or a event at a facility
we will assist you in finding the perfect location for your event.
We will also assist you with your food, entertainment choices and much more.
From the consultation to the day of the event,
we will provide you with information that is smart, cost effective, and practical.
There are no rules, rights, or wrongs.
We take away the guesswork of where do I start,
what will I do, and how should I do it?
Divine Weddings & Events can create Magical, Mystical, and Fairy-tale Birthday Parties or Sweet Sixteen, Graduation Parties
and Elegant Business Affairs for your special day.
Email us for a free consultation today!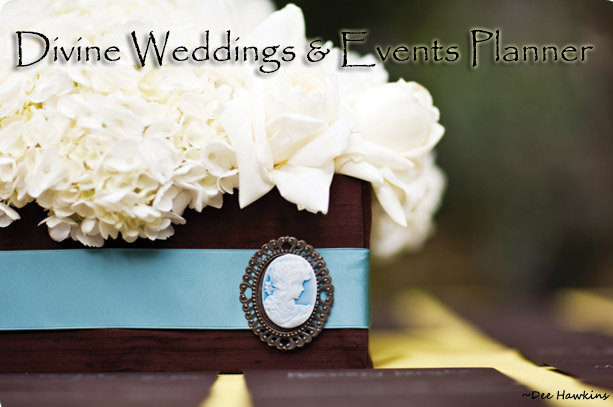 Contact Divine Weddings & Events Planner...
for all your party and event planning needs!!
All photos on this website are from actual Divine weddings © 2007 Divine Wedding & Events Planner, All Rights Reserved